Dogecoin: It's Time to Take the Crypto Joke Seriously!
Dogecoin: It's Time to Take the Crypto Joke Seriously!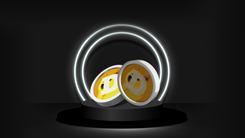 The world of cryptocurrencies can be a bit intimidating and full of technical language that can put off some potential investors or traders. One cryptocurrency, however, adds a bit of quirkiness - Dogecoin, the crypto named after the Doge meme that was popular in 2013.
Is $DOGE heading to the moon or is it flying too close to the sun? Now that's a question crypto-enthusiasts have been badgering about for months.👀
We'll be taking an in-depth look at Dogecoin and explaining exactly what's with all the buzz around the joke coin.
Let's unpack this! 💪
What is Dogecoin?
Dogecoin is one of the thousands of cryptos that have emerged recently. But unlike many other digital currencies that were created to solve a problem, DOGE was literally created to make fun of Bitcoin and the silliness of buying a digital asset without any assets or cash flow backing it up.
The symbol of the coin is the well-known Internet meme of a Shiba Inu dog looking quizzically into a camera.
The project's original intent was to be a quote parody of all the serious clone coins that were trying so hard to differentiate themselves but all seemed the same.
🎓Quick breakdown:
Crypto cloning is the process of creating a second, identical, digital currency. Such coins are often created to improve on existing cryptocurrencies by adding new features or fixing perceived issues.
Dogecoin was the self-deprecating example of a clone coin trying to be the next Bitcoin and on December 6, 2013, the first block was mined.⛏️
On the technical side, the development of Dogecoin largely used the principles laid down by Bitcoin. The founders of the coin, Jackson Palmer and Billy Markus, were very familiar with Bitcoin and how it uses blockchain technology to accomplish its tasks.📝
Palmer and Markus were able to weave their sense of humour into the main coding of the coin. In particular, they changed many of the terms used in the ecosystem. For example, Dogecoin miners are called diggers.👷
Rough overview of the tech behind Dogecoin:
Dogecoin can handle around 30 transactions per second 💣
Average Transaction fee is about 1 cent 💲✂️
DOGE's current Block Time is 1 minute ⚡
👉Master the art of cryptocurrency with NAGAX Academy and learn all the basics of blockchain.
Elon Musk and DOGE - A Twilight-esque Story?
The planet's richest man, Elon Musk, although not directly involved in the creation of the coin, has become one of its iconic figures. After his first tweet about the coin, the price of $DOGE has more than doubled.
The post blew up the markets and the $DOGE value instantly skyrocketed, but Musk didn't stop there and published several more posts.
As the years go by, Musk does not seem to stop honouring his feelings for DOGE. Thanks to his upcoming SpaceX mission, the coin is poised to create history in 2022. According to media reports, Elon Musk is sending satellite DOGE-1 to the moon. The entire mission will be funded in Dogecoin.‍🚀
This mission will demonstrate the application of cryptocurrencies beyond Earth orbit and lay the foundations for interplanetary trade. 👽🤭
Is $DOGE a Good Investment?
There has always been a lot of scepticism surrounding the project, but thanks to the booming cryptocurrency industry and an active community, the project is not only in the top 20 by capitalisation but is also one of the most mentioned in the media and social media.
While DOGE offered investors a "wild ride" for months in early 2021, it has done little since then. Loyal adherents still plan to HODL the crypto in the hope that it will go higher again. However, when you are trying to decide how to invest your money, it is important to ask yourself whether a particular asset is right for your portfolio.
The million-dollar question now is: will the dog have its day? HODLers of the world's leading meme coin are hoping for a repeat of 2021 when community efforts helped the token's price soar into the stratosphere.
How to Buy Dogecoin at NAGAX
Want to know where to buy $DOGE and join a fast-growing crypto community? Well, NAGAX is here to be your easy-to-use gateway to the blockchain revolution!
Become a proud owner of $DOGE in 3 simple steps:
Open an account with NAGAX
Buy DOGE Instantly with Debit/Credit Card or USDT
When it comes to buying crypto, you have a lot of options. You can directly purchase $DOGE with a credit/debit card or other cryptocurrencies. To learn more about buying crypto at NAGAX, please click here.
That's it – you're good to go!
Pretty easy, right? Now you're ready to get started! ‍🚀
Important Notice: Any news, opinions, research, analyses, prices, or other information contained on this feed are provided as general market commentary and do not constitute investment advice or solicitation for a transaction in any financial instrument or unsolicited financial promotions. All material published on the website is intended for informational purposes only. The market commentary has not been prepared in accordance with legal requirements designed to promote the independence of investment research, and therefore, it is not subject to any prohibition on dealing ahead of dissemination. We do not make any warranties about the completeness, reliability, and accuracy of this market commentary. Past performance is not an indication of possible future performance. Any action you take upon the information on this feed is strictly at your own risk, and we will not be liable for any losses and damages in connection with the use of this feed.
Risk Warning: Cryptocurrencies are highly volatile and trading can result in the loss of your invested funds. Before investing you should be aware that cryptocurrencies may not be suitable for all investors. You should therefore carefully consider whether trading or holding digital assets is suitable for you in light of your financial condition and not invest money that you can not afford to lose.