Crypto Weekend Crash; Hit The Bottom Or Can We Dip More? | Daily News 14/6/22
Crypto Weekend Crash; Hit The Bottom Or Can We Dip More? | Daily News 14/6/22
Well, what a weekend for Bitcoin and cryptocurrency as a whole 😨! After many weeks of Bitcoin holding its price at the $30k spot, its choppy price action had come to an abrupt end on the 12th of June. And it did so relentlessly! Bitcoin has suffered its largest price drop in a year and is now down almost 70% since its all-time highs of almost $69,000. Just in the last 24 hours, BTC has dropped around 20%. This drop happened as the equities markets hit their lowest levels of the year and are causing a negative sentiment for crypto as a whole, with many speculating that if Bitcoin falls below the $20,000 level, we could see even further 🔻 downside.
As of writing, Bitcoin is at $22,600, crawling up from its low of under $21k. The overall market cap of all cryptocurrencies has fallen below $1 trillion for the first time since the beginning of 2021 and many altcoins have suffered in response.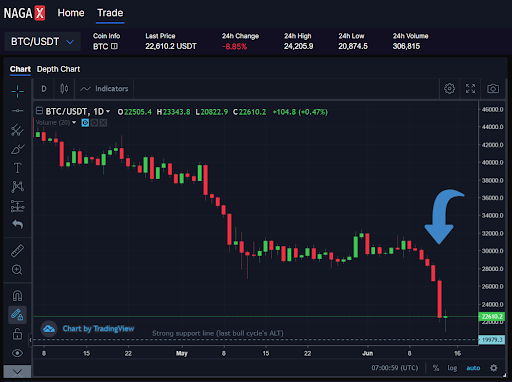 The recent 7 days of Bitcoin dropping to new lows this year, have we found support here or is there more to go?
What Can We Expect For BTC?
Well, unfortunately, BTC is at the hands of the bears at the moment meaning that the selling pressure, uneasiness and generally fearful sentiment are very much at large at the moment.
Looking at the big psychological level of $20k is a must right now; if BTC was to 💥 break this level, we will be in uncharted territory!
We also have the Federal Reserve reports out tomorrow (15/6/22) which will show how much of the monetary policy will be aggressively squeezed to tamp down inflation. This will of course affect the US dollar which in turn will steer Bitcoin.

Generally, for altcoins, we have seen the same downward trend following Bitcoin. Ethereum especially was hit worse than Bitcoin as it has had almost -30% in price action over the last seven days (in comparison to BTC dropping -24%). Also, ETH almost dipped below $1000 which is another psychological number to look for when looking at the general sentiment.
As of the last 24 hours, altcoins have had a mixed response in price movement:
🟢 Cardano (ADA) is doing pretty well considering the amount of red we are seeing in the market. ADA is up over 7% in the last 24 hours, recovering quite nicely although at one point, trading at less than 0.50 cents!
🟢 Solana (SOL) is also another one of the few performers recovering well with being up almost 10% over the course of the last day!
🔴 We have seen Cronos (CRO) and Dogecoin (DOGE) suffer pretty hard over the last week, both being hit on average with a -30% in price! These are just 2 examples of how the Bitcoin decline is affecting the altcoin market pretty hard!
🔴 Tron (TRX) is down 5% in the last 24 hours and over 22% in the last week. Is there another LUNA/UST disaster looming here?
🔴 Monero (XMR) is one of the hardest-hit in the last 24 hours being -14% down! This could be due to the fact that their 'tail emission' upgrade is nearing and still remains under privacy concerns.

🗠 The stock market has generally produced disappointing but not unexpected results; with the S&P 500 dropping almost 10% since the 8th of June and about 22% since Jan 3rd's record high close, confirming it has been in a bear market since hitting that high. NASDAQ has dropped almost 8% over the last week also.
Many individual stocks are suffering like Meta, Walt Disney, Netflix and Tesla! This shows investors are heavily reconsidering what they're willing to pay for these tech companies and automakers; all due to the rising interest rates, high inflation, the war in Ukraine and a slowdown in China's economy. And if investors are not investing in the traditional markets, it's unlikely they will be investing in more riskier-based investments like crypto and look for more safe-haven lockups.
💲 The US Dollar Index (DXY) has hit over the 105 level which we haven't seen since 2002! And with the recent relatively strong CPI and low consumer sentiment last week, we could see the DXY get even higher! This is not good news for Bitcoin, because the higher we see the strength of the dollar increase, the harder it will be for Bitcoin to recover and climb, or even just maintain its levels!
🌎 Cryptocurrency has become representative of a 'soldier of war' from the traditional markets as monetary policy is tightened worldwide to fight inflation! With new lows in this market cycle, many are waiting on the sidelines to buy the dips; however when there is news like crypto lending platforms such as Celsius halting withdrawals or Microstrategy risking getting margin called - traders are getting more fearful!
Summary:
Bitcoin has dropped substantially in the last 24 hours by 20% 💥
Crypto Winter ❄️ is here with altcoins generally not doing well
Investors are awaiting tomorrow's report by the FOMC, which will dictate all markets' direction 🧭
The US dollar 💲 is at its highest level since 2002
Important Notice: Any news, opinions, research, analyses, prices, or other information contained on this feed are provided as general market commentary and do not constitute investment advice or solicitation for a transaction in any financial instrument or unsolicited financial promotions. All material published on the website is intended for informational purposes only. The market commentary has not been prepared in accordance with legal requirements designed to promote the independence of investment research, and therefore, it is not subject to any prohibition on dealing ahead of dissemination. We do not make any warranties about the completeness, reliability, and accuracy of this market commentary. Past performance is not an indication of possible future performance. Any action you take upon the information on this feed is strictly at your own risk, and we will not be liable for any losses and damages in connection with the use of this feed.
Risk Warning: Cryptocurrencies are highly volatile and trading can result in the loss of your invested funds. Before investing you should be aware that cryptocurrencies may not be suitable for all investors. You should therefore carefully consider whether trading or holding digital assets is suitable for you in light of your financial condition and not invest money that you can not afford to lose.