Crypto: 3 Days Of Bullish Sentiment? | Daily News 7/7/22
Crypto: 3 Days Of Bullish Sentiment? | Daily News 7/7/22
The crypto markets has more or less taken a bit of a breather 😌 in the last 24 hours, with Bitcoin resting comfortably over $20,000 ☝️ for the 3rd day in a row, while the rest of the altcoins are also tracking the same momentum. Investors and traders alike are all starting to have a realistic perspective 🤕 on the current crypto environment, which has recently been under attack by news of protocol failures and global macroeconomic uncertainties. If a sudden flip 🍳 doesn't happen for the better in the ongoing fight 🥊 against inflation, investors are not expecting major price increases any time soon!
🌐 As for the equities markets, they were all generally up in the green 🟢 in the last 24 hours, but not by any substantial amount. The FOMC Meeting Minutes released yesterday gave the slightly concerned investors some hope 🙏 after showing their strong commitment to its fight against inflation. However, the report of strong hiring in May indicated that the economy has yet to slow down enough to stop inflationary pressure.
Why is all of this important? Let's have our conversation! 👇
Bitcoin (BTC) has sat comfortably above the 🔺 psychological support level of $20K for 3 days in a row now, currently valued at about $20,300 as of writing. It remained within the channel of the $21,500 weekly high and $18,600 weekly low, and over the support level of the bullish trend line, at about $19,800.
The immediate resistance level to break for further upside ⤴️ is over $20,500 but to really see the bulls regain control, we really need to see a strong value of $21,000 at the minimum. Adversely, if the bears regain their positions, a break ⤵️ of the key support of $20K then to $19,500 will prevail. As you can see below, this has formed a 'channel' for the price action between support and resistance, with the $20K being central!
In this BTC/USDT hourly chart, you can see the support and resistance lines creating a channel between $19,300 and $20,740.
Investors and traders are making the most of the current price action, divulging on a shopping spree 🛒🛍️ for more Bitcoin! We can see 🕵 from Glassnode, data showing us that wallets holding less than one Bitcoin bought over 60,000 Bitcoin in June alone, at "the most aggressive rate in history".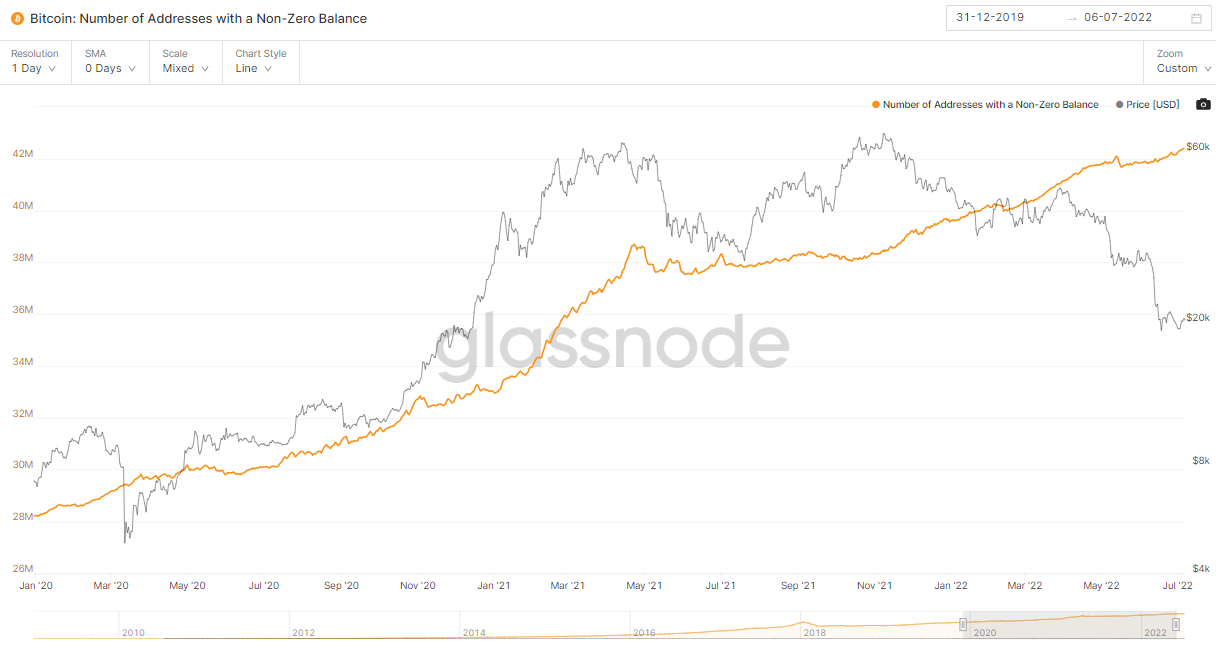 The data from the number of addresses with a non-zero balance from Glassnode at all-time highs!
🙋‍♂️🙋‍♀️ Let us know below, where do you expect Bitcoin to go from here? Are you bullish or bearish and why?!

Although most altcoins showed significant upside 📈 yesterday, things so far are quieter today 🤫. Perhaps waiting to see 🕵 how Bitcoin will react to further macroeconomic environments.
🟢 Ethereum managed to reach $1200 in the late hours yesterday but has since retraced 📉 back to previous resistance of $1170 as of writing, up almost 3% in the last 24 hours putting itself as one of the top performing 🏆 altcoins.
🟢 Avalanche (AVAX) is also on the top end of performers since yesterday also being up almost 3%, due to massive developments that the AVAX team is working on for their DeFi ecosystem.
🔻 Cosmos (ATOM) is one of the lowest performing alts this past day, being down over 3%. However, this is most likely a price relief as it has done relatively well in the past few days in comparison to others; so a drop in % is expected and not anything untoward. In fact, ATOM is growing and evolving with some competing developments over the past couple of weeks!

📊 Cryptocurrencies have been following the major equities markets more often than not as of recent and as you've most likely seen if you're following our daily analysis.
📈 The Nasdaq, S&P 500 and the Dow are all up slightly in the green. However, as we mention in the opener of this blog, not much price action due to the mixed feelings 👍👎 of investors and traders in the market from yesterday's report findings.
📋 First off, the JOLTS Job Offerings report. Job openings fell sharply 📉 in May but still far outnumbered the level of people looking for employment. Even though there was this decline, the number of job openings was better than the 11.05 million which was forecasted. Tomorrow, we will see more up-to-date information when the monthly NFP is released, so keep your eyes 👀 peeled 🧅!
📋 Yesterday, the FOMC Meeting Minutes proved to be unsurprisingly hawkish (aggressive in its nature in its fight against inflation). It was mentioned that the policy rate will be hiking again at the end of this month by either 50 basis points or 75! There was no sign that the Fed is thinking of deviating from its strategy and see that returning inflation to 2% is critical. This brought investors some hope yesterday, resulting in see-saw prices in the markets.
📖 Today, 🕵 look out for reports such as the US Department of Labour 'Unemployment Claims' report as well as talks 📣 by members of the FOMC.
👁️‍🗨️ Keep an eye on this week's economic events and forecast article here 📅 to keep up to date with what's going on in the world's economy, and more importantly how it affects crypto!
Summary:
Bitcoin holds over $20K for the third day in a row and is taking a breather.
Altcoins are also following the same pattern, with ETH and AVAX being top performers.
Data shows the number of addresses holding Bitcoin is at all-time highs!
Mixed sentiment from economic reports yesterday, with equities markets up but only slightly.
Important Notice: Any news, opinions, research, analyses, prices, or other information contained on this feed are provided as general market commentary and do not constitute investment advice or solicitation for a transaction in any financial instrument or unsolicited financial promotions. All material published on the website is intended for informational purposes only. The market commentary has not been prepared in accordance with legal requirements designed to promote the independence of investment research, and therefore, it is not subject to any prohibition on dealing ahead of dissemination. We do not make any warranties about the completeness, reliability, and accuracy of this market commentary. Past performance is not an indication of possible future performance. Any action you take upon the information on this feed is strictly at your own risk, and we will not be liable for any losses and damages in connection with the use of this feed.
Risk Warning: Cryptocurrencies are highly volatile and trading can result in the loss of your invested funds. Before investing you should be aware that cryptocurrencies may not be suitable for all investors. You should therefore carefully consider whether trading or holding digital assets is suitable for you in light of your financial condition and not invest money that you can not afford to lose.