A Crypto Breakthrough? Countries on Track to Make Bitcoin Legal Tender
A Crypto Breakthrough? Countries on Track to Make Bitcoin Legal Tender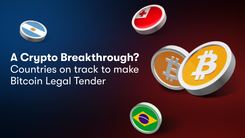 Last September El Salvador became the first country to adopt Bitcoin as legal tender alongside the US dollar which is being used since 2001. Ever since El Salvador's Bitcoin adoption became official we've seen politicians push for Bitcoin to become legal tender in over half a dozen countries. This includes the US, where more than a quarter of the population believes that Bitcoin should be made legal tender alongside the US dollar according to a poll conducted by YouGov.
Although the future of Bitcoin as legal tender in the US looks uncertain, it hasn't stopped politicians in certain states namely California and Arizona from pushing for the adoption of Bitcoin. Florida's governor also recently announced that he's working on ways to make it possible for residents to pay state taxes in Bitcoin, something Wyoming has been also considering since February 2022.
If you are wondering why all these places seem to be so keen to adopt Bitcoin, the short answer is - El Salvador. As a consequence of its Bitcoin adoption, the Salvadoran Government now holds close to 100 million dollars of BTC and though this, represents only about 2% of the country's reserves, it's caused a sort of FOMO ('fear of missing out') among governments around the globe.
According to a report by Fidelity:
"There is very high stakes game theory at play here, whereby if Bitcoin adoption increases the countries that secure some bitcoin today will be better off competitively than their peers, therefore even if other countries do not believe in the investment thesis or adoption of bitcoin they will be forced to acquire some as a form of insurance… We therefore wouldn't be surprised to see other sovereign nation states acquire bitcoin in 2022 and perhaps even see a central bank make an acquisition".
Put simply, there is a high likelihood that governments and central banks will add BTC to their balance sheets for diversification purposes as Bitcoin adoption continues at the individual, institutional, and now governmental level.
As awesome as it is that countries could start acquiring BTC, it's important to point out that this isn't the same thing as adopting Bitcoin as legal tender. Legal tender is anything recognized by law as a means to settle a public or private debt, or meet a financial obligation including tax payments, contracts and legal fines or damages.
The keywords here are 'recognized by law' because there are already many places where you can do one or more of the above-mentioned things with Bitcoin, but El Salvador is currently the only place where BTC's use is backed by the government's guarantee.
El Salvador essentially adopted BTC for remittance payments for the economic benefits of bringing in the crypto industry, and to reduce its dependence on the US dollar.
The sanctions against Russia are incentivizing countries to find alternative forms of payment that don't involve the US dollar and while these have so far just involved other fiat currencies, it's not far-fetched to say that we could see some transactions between states start to take place in BTC.
Tonga
When it comes to the countries that are most likely to adopt Bitcoin as legal tender, the island nation of Tonga is at the top of the list. Tonga's Bitcoin adoption aspirations have been in the headlines since last October and have been in the works since July 2021.
Like El Salvador, Tonga is planning on mining BTC using its 21 volcanoes (through geothermal energy), one of which actually exploded earlier this year. Whereas El Salvador is using profits from its BTC mining to build infrastructure, Tonga is planning on using profits from its BTC mining as a form of universal basic income.
Tonga is adopting BTC for more-or-less the same reasons as El Salvador. Tonga's economy is reliant on remittance payments and this has forced the country to become reliant on dollar-dependent organizations such as the International Monetary Fund and the World Bank for loans.
Former Tonga politician, Lord Fusitu'a, implied that the country intends to tap advanced crypto solutions to assist with its Bitcoin payments infrastructure.
Argentina
Argentina is known to be an avid adopter of crypto. The co-creator of Ethereum, Vitalik Buterin, confirmed that crypto adoption in Argentina is 'very high' and that lots of businesses operate in USDT - crypto's largest stablecoin.
Nevertheless, there appears to be a slippery slope because the International Monetary Fund (IMF) asked the Argentinian government to actively discourage the use of cryptocurrency as part of a loan renegotiation. As many have pointed out, one of the reasons the IMF would ask Argentina to agree to this condition is if the IMF perceived that the mass adoption of crypto in the country could be imminent; given that one of the IMF's implicit goals is to ensure the US dollar remains dominant.
Brazil
A third contender for a country that could soon make Bitcoin a legal tender is Brazil. Like Argentina, Brazil has seen a lot of crypto adoption through official statistics such as placing the adoption rate at around 5%. The Brazilian politicians have been pushing to make Bitcoin a legal tender since at least last October and some government officials have decided to take matters into their own hands.
The trailblazer in this regard has been Rio de Janeiro's mayor, Eduardo Paes, who allocated 1% of the city's treasury to BTC earlier this year. More recently, Eduardo announced that the city will accept BTC as payment for property taxes.
What Effect Would the Mass Adoption of Bitcoin as a Legal Tender Have on BTC?
El Salvador seems to have shown us the answer. For starters, BTC is likely to exist alongside whatever other legal tender is available in the country. Having BTC as legal tender won't invalidate the other forms of currency available. Furthermore, El Salvador's experiment suggests that BTC is unlikely to be used as a currency in these cases. A recent report by the Salvadoran Chamber of Commerce found that only 14% of the country's registered businesses have transacted in BTC.
El Salvador has been stacking sats since September 2021. This accumulation is likely to continue in accordance with the global adoption of BTC and the same effect will likely be seen in other countries that adopt Bitcoin as legal tender.
The steady buying pressure and the restriction of supply could have a potential impact on BTC's price, especially if a government starts deciding to back their state-issued currency with BTC.
Bitcoin at NAGAX
Crypto prices, including that of Bitcoin, have skyrocketed time and again, bringing unexpected rewards for some investors. Nevertheless, given the volatility of the financial instrument, one should have in mind that losses are also part of the package.
NAGAX is a secure cryptocurrency platform and by far, the best place to buy, sell, trade, and connect with others. Click here to learn how to buy Bitcoin instantly.
Important Notice: Any news, opinions, research, analyses, prices, or other information contained on this feed are provided as general market commentary and do not constitute investment advice or solicitation for a transaction in any financial instrument or unsolicited financial promotions. All material published on the website is intended for informational purposes only. The market commentary has not been prepared in accordance with legal requirements designed to promote the independence of investment research, and therefore, it is not subject to any prohibition on dealing ahead of dissemination. We do not make any warranties about the completeness, reliability, and accuracy of this market commentary. Past performance is not an indication of possible future performance. Any action you take upon the information on this feed is strictly at your own risk, and we will not be liable for any losses and damages in connection with the use of this feed.
Risk Warning: Cryptocurrencies are highly volatile and trading can result in the loss of your invested funds. Before investing you should be aware that cryptocurrencies may not be suitable for all investors. You should therefore carefully consider whether trading or holding digital assets is suitable for you in light of your financial condition and not invest money that you can not afford to lose.