A Bearish Sentiment Still Remains; Today A Big Day For ALL! | Daily News 3/6/22
A Bearish Sentiment Still Remains; Today A Big Day For ALL! | Daily News 3/6/22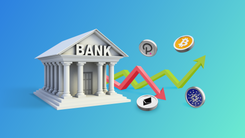 Once again, we saw Bitcoin decline back down to its recently familiar price levels of around $30K after being pushed up to almost $32,500 at the start of the week. The move back down to these price levels simply confirms to us the similar correlation BTC has to traditional markets as both the S&P 500 and NASDAQ dropped about 2.5% respectively. Due to this correlation though, Bitcoin investors fear 😰 that the potential decline in the stock market could lead Bitcoin to the lower levels of $28K. Below, is a graph that indicates Bitcoin's correlation with traditional assets like the Nasdaq, S&P, and gold.
As we can see here, BTC has a positive correlation to the traditional markets. Using the key on the left, the closer the stock is to 1, the stronger the positive correlation. Conversely, the closer to -1, the stronger the negative correlation.
Also, we do have a very important report released later today, the NFP which will have an effect on the U.S. dollar which in turn can affect Bitcoin's price. Read our article on how the NFP report can affect the markets here for more information. The projected goal we ideally want to see BTC get to, to confirm our price reversal is $33,500; which is above the 50 day moving average that will indicate the 💪 of the bulls!

Ethereum (ETH) has thus far failed to break and maintain that psychological price level of $2000 and still continues on the downward trend 📉 that it has been following for about 3 weeks. This seems to confirm the bias that we will most likely see a retest of the price of $1700! Just as with Bitcoin, the focus by investors right now is on the traditional markets and due to this, any bullish sentiment and hope left is slowly dwindling for ETH to decouple to the upside.
We can see here the downwards channel the ETH price is following and the support floor.
As for the other altcoins, they are all mostly in the green but have not risen by anything too exciting; although Cardano (ADA) and Polkadot (DOT) have outperformed the market by over 4% in the last 24 hours.
Two other altcoins we recommend keeping 👀 on, especially if Bitcoin does hit back towards its highs are Polygon (MATIC) and Stellar (XLM), both showing great upside potential if we get that rally many have been waiting for! Come on over to our trading platform here at NAGAX where you can buy & sell 50+ crypto pairs with multiple order types and ultra-fast order executions!

Stock Futures once again have changed very little early this morning, as investors across all markets are currently awaiting the release of the NFP report later today.
In the regular spot markets, all 3 major indexes broke the 2 day losing streak yesterday with the DOW up 1.3%, S&P 500 up 1.8% and NASDAQ leading with 2.7%.
According to the ADP report released yesterday, private sector employment rose by 128,000 in May which is the lowest gain in this post-pandemic era recovery. It has fallen very short of the projected figure of 295,000. This slowdown in hiring comes from fear of economic pullback increasing.
An even more important report that can affect the markets in a big way is the NFP report which will be released later today. Upon release, we will cover the report in further detail. But as mentioned yesterday, the release of this report is a massive tradable event especially in forex - so day traders especially, are sitting back awaiting the release with their 'trigger fingers' ready!
Important Notice: Any news, opinions, research, analyses, prices, or other information contained on this feed are provided as general market commentary and do not constitute investment advice or solicitation for a transaction in any financial instrument or unsolicited financial promotions. All material published on the website is intended for informational purposes only. The market commentary has not been prepared in accordance with legal requirements designed to promote the independence of investment research, and therefore, it is not subject to any prohibition on dealing ahead of dissemination. We do not make any warranties about the completeness, reliability, and accuracy of this market commentary. Past performance is not an indication of possible future performance. Any action you take upon the information on this feed is strictly at your own risk, and we will not be liable for any losses and damages in connection with the use of this feed.
Risk Warning: Cryptocurrencies are highly volatile and trading can result in the loss of your invested funds. Before investing you should be aware that cryptocurrencies may not be suitable for all investors. You should therefore carefully consider whether trading or holding digital assets is suitable for you in light of your financial condition and not invest money that you can not afford to lose.