The Swaying Waves of Bitcoin's Price Action Continues… | Daily News 7/6/22
The Swaying Waves of Bitcoin's Price Action Continues… | Daily News 7/6/22
As the story continues to repeat itself as of late, Bitcoin once again fails to keep its upward momentum where its price has dropped suddenly 📉 from $31,500 to $29,500 as of writing. Bitcoin was struggling to test the $32k zone until a strong move brought the price tumbling down below the $30,500 support level breaking the 'what was' key bullish trend line (pictured below). The bears 🐻 are now attempting to break the $29,350 support line and if it continues to keep moving down, we will see Bitcoin reach the $28k area.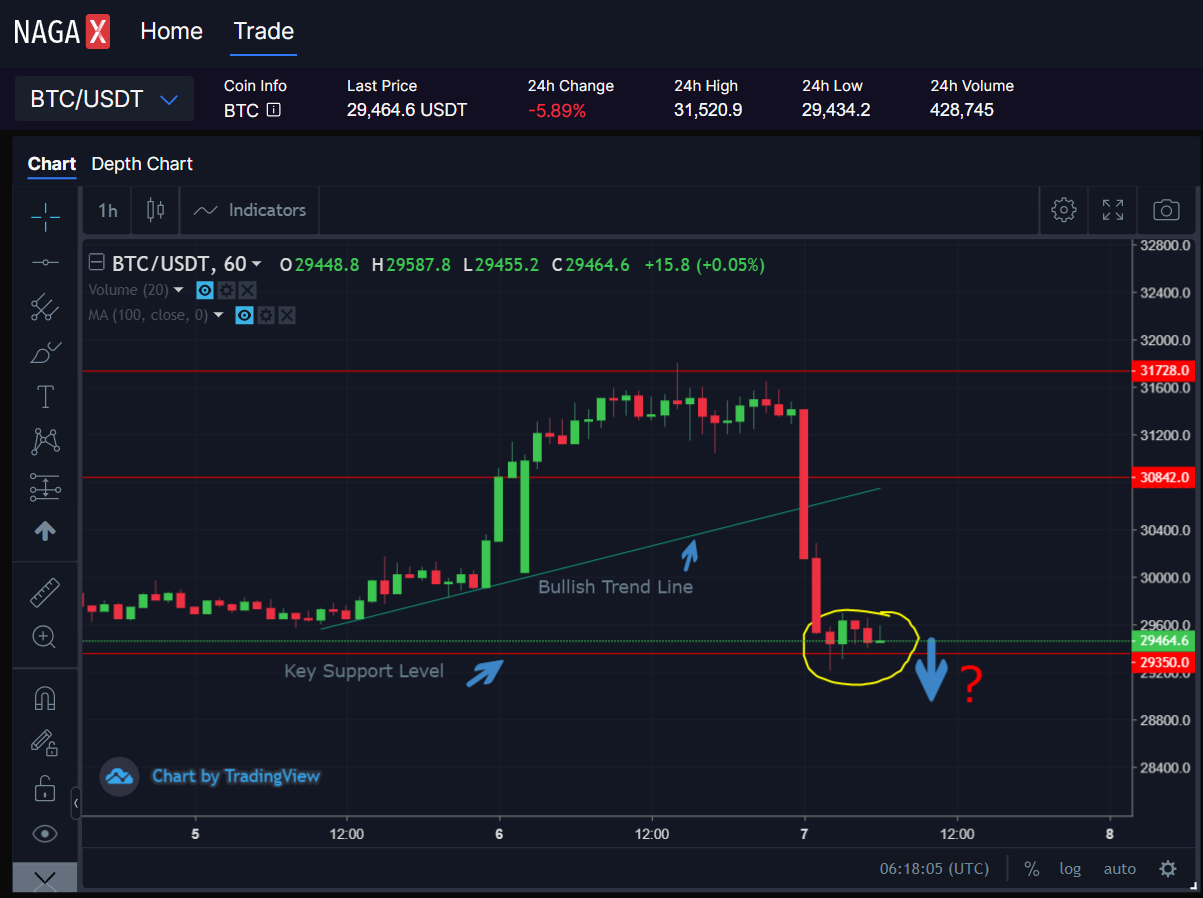 A not-so-good looking chart over the last 24 hours with BTC breaking the 'bullish trend line' and near a support level, of which if it breaks - could see even lower prices ahead!
But what brought this see-saw price action? Why did Bitcoin show good momentum and then fail; to return back even lower? Well, apart from the usual volatility in the crypto markets, we had news yesterday of the SEC's investigation 🕵️ into Binance which has brought some uncertainty in the market, and that there will also be an upcoming US bill set to be introduced to incorporate crypto into the traditional financial system.
Bitcoin also followed correlation with the stock markets (although in a more exaggerated manner) and traders are awaiting the CPI report this Friday, to see what impact this will have on the markets with this likely scenario: 🔼 uptick in inflation = 🔻 downward pressure for ₿!

Of course, ETH and all the other altcoins followed Bitcoin's direction back down 'south' yesterday.
Ethereum hit lows sitting in the $1700 area, but will the upcoming merge update with Ropsten tomorrow be enough to salvage and bring some more hope back to ETH? The Ropsten Testnet merge is a giant leap to the transition to ETH2.0, which will basically utilise Proof of Stake to lower gas fees and spike in value.
As expected, all the other altcoins are also in the red 🔴 with Avalanche (AVAX) and Aave (AAVE) being hit hardest, with a -10% decline in the last 24 hours!
Although we have seen the biggest news of today being the SEC investigation into Binance and BNB; BNB has not surprisingly suffered (yet) as much as others were expecting. If it weren't for the news reports, we would take its price decrease just like all the other alts…bearish!
Tezos (XTZ): One of the very few cryptos looking bullish in this market.
The best performer 🚀 in the altcoin market over the last 24 hours is Tezos (XTZ) being in the green with 3.5% up 🟢 in last 24 hours! XTZ has made its 3rd consecutive day in the green, an extension of the latest price action that has seen Tezos price increase by more than 45% since May 12th!

On Friday we will see the Consumer Price Index (CPI) 📜 for May come out. The month-on-month reading should be up +0.7% making a +8.2/% increase year on year. What does this mean for crypto?? Well we know the CPI is expected to show an acceleration in inflation, showing a faster than expected uptick in prices which in turn will put more downward pressure on 'risky' assets such as Bitcoin and Stocks!
We also saw Twitter stocks decline after Elon said he could 'terminate' the takeover deal due to Twitter not providing data on 'spam' accounts upon his request. This could also affect the price of crypto, especially for DOGE coin holders; as his Twitter takeover deal could be considered generally bullish for Doge due to Elon's support and mentions of it in the past on the platform.
The strength of the US dollar is still around similar levels after a 2-day uptrend, not far off its recent all-time highs! While the Inflation figures on Friday could ignite some short-term volatility in the dollar, it is unlikely to change the Fed's (or the dollar's) course over the coming months - which is not great news for Bitcoin! As long as the 💲 is strong, Bitcoin and other 'riskier' assets are not of much interest to the general markets.
Important Notice: Any news, opinions, research, analyses, prices, or other information contained on this feed are provided as general market commentary and do not constitute investment advice or solicitation for a transaction in any financial instrument or unsolicited financial promotions. All material published on the website is intended for informational purposes only. The market commentary has not been prepared in accordance with legal requirements designed to promote the independence of investment research, and therefore, it is not subject to any prohibition on dealing ahead of dissemination. We do not make any warranties about the completeness, reliability, and accuracy of this market commentary. Past performance is not an indication of possible future performance. Any action you take upon the information on this feed is strictly at your own risk, and we will not be liable for any losses and damages in connection with the use of this feed.
Risk Warning: Cryptocurrencies are highly volatile and trading can result in the loss of your invested funds. Before investing you should be aware that cryptocurrencies may not be suitable for all investors. You should therefore carefully consider whether trading or holding digital assets is suitable for you in light of your financial condition and not invest money that you can not afford to lose.