NFT-Craze: The Hottest Trends and Most Expensive Digital Bits Ever Sold
NFT-Craze: The Hottest Trends and Most Expensive Digital Bits Ever Sold
With each passing year, works of art are gaining a foothold in virtual space. The word 'NFT' is appearing more and more frequently in the news headlines. What are those mysterious three letters hiding?
NFTs are Non-Fungible Tokens that allow you to create digital versions of collectibles. The phenomenon is especially widespread in the field of art. NFT creators and artists are not afraid to transform their creativity into a new reality and introduce innovative technologies into their work, which only makes their art more interesting, rich, and expressive.
There is a demand for this 'art' and the NFT market has quietly, but steadily, entered our lives.
The good news is that there is a price that determines the value of NFTs. According to the Chainanalysis report, NFT sales in 2021 exceeded $27 billion. Based on this indicator and the demand for NFT tokens, let's try to answer the question, "Which NFTs are trending?"
Hottest NFT Trends Happening Right Now
The positive dynamics of the NFT market have created excitement around this new sector of the cryptocurrency economy. This has been boosted by the growing popularity of P2E-based blockchain games and the infusion of large companies releasing their NFTs, such as Nike, Coca-Cola, Gucci, and others. In 2022, the NFT market could grow tenfold. Here are the main trends:
• Application of NFTs in new areas. They will be in demand in sectors where it is necessary to confirm ownership rights: virtual real estate, clothing and accessories, other in-game assets, and the provision of the ticket market. In the future, NFTs will be used for the digital marking of goods and document verification.
• The development of social components, when the NFTs becomes necessary to confirm the social status and access to various privileged places. A vivid example is NFT tokens with the image of monkeys, which have become the hallmark of a closed yacht club.
• High demand for real estate in the Metaverses from representatives of large companies and brands that are already investing tens of millions of dollars in these projects.
• Increasing sales of fan tokens due to the millionth audience.
• Increased value of old NFT collections. For example, the CryptoPunks project launched in 2017-2018 and gained the highest popularity in 2021.
• The growing popularity of music NFTs allows young and talented musicians to sell their work individually, declaring themselves to the whole world.
Top 10 NFTs You Should Know About
Despite the young age of NFT creators, bright representatives appeared on its market, gaining the greatest popularity, and selling like hotcakes. We present the top 10 NFTs that are considered to be the coolest and most popular:
CryptoPunks Date: 23 June 2017 Creator: Larva Labs Average Price: $196k
Bored Ape Yacht Club Date: 29 April 2021 Creator: Yuga Labs Average Price: $395k
Mutant Ape Yacht Club Date: 28 August 2021 Creator: Yuga Labs Average Price: $92k
Fidenza Date: 15 October 2021 Creator: Tayler Hobbs Average Price: $154k
Azuki Date: 13 January 2022 Creator: Chiru Labs Average Price: $87.7k
Clone X Date: 18 November 2021 Creator: RTFKT Studio / Takashi Murakami Average Price: $71.5k
CoolCats Date: 1 July 2021 Creator: Evan Luza (aka Elu) and Clon Average Price: $27.9k
CyberKongz Date: 5 March 2021 Creator: Myoo Average Price: $16.4k
Karafuru Date: 4 February 2022 Creator: Museum of Toys Average Price: $9.4k
Hape Prime Date: 19 January 2022 Creator: Digimental Average Price: $4542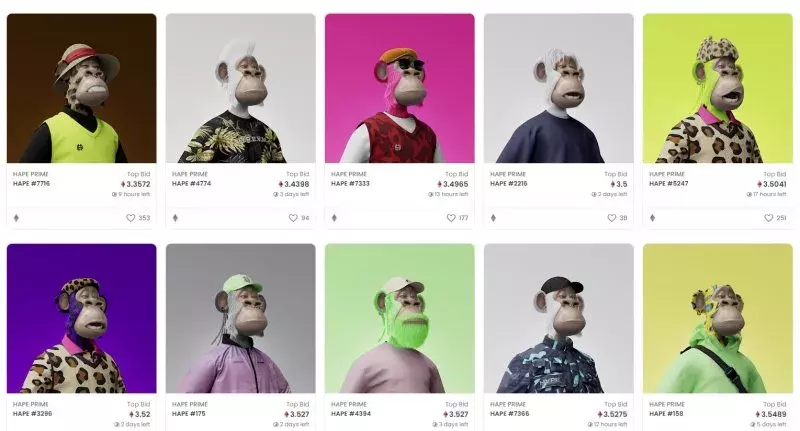 The Most Expensive NFTs Sold to Date
The surprising fact is that even though NFTs have been around for just over four years, the sales of the top 100 NFTs released exceed $16.7 billion. Let's take a look at the most expensive NFTs of all time:
First place goes to a collage called 'Everyday: The First 5000 Days' by artist Beeple, which he created for 5,000 days and sold for $69.3 million.
Second place goes to a digital sculpture, HUMAN ONE, which sold for $28.9 million.
In third place is a copy of the well-known Cryptopunk collection #7523, which was sold for 11.75 million dollars.
It is very difficult to predict the sales forecast of a particular collection. There are cases of buying NFT pictures that are difficult to explain rationally, but the fact remains.
As an example, here are some of the most interesting and unusual acquisitions:
A picture of a little girl with a sly smile outside in front of a burning house went for $0.5 million.
In 2018, conceptual artist Kevin Ebosh sold a painting of Forever Rose for $10,000,000 on Valentine's Day.
A painting called CrossRoad by artist Beeple timed to coincide with the 2020 US presidential election, went for $6.6M.
Young artist Abigail exhibited a collection of Red Book-listed beluga whales drawn with an iPhone 8 and digitally rendered that netted her over $1 million within hours.
There are many examples of enrichment through the sale of NFTs. It is an interesting and unpredictable world with its laws and rules, where there is room for great achievements as well as disappointments.
NFTs are coming soon to NAGAX
At NAGAX we aim to increase economic freedom in the crypto space. By enabling more people to join the creator economy and potentially profit from their work, NFTs play an important role in this mission. NFT creators have shaken up the traditional art world. Industries such as fashion, gaming, and music are recognising the power of NFTs to unlock new forms of creativity and ownership.
NAGAX will make NFTs more accessible by creating seamless and intuitive interfaces that take all the complexity behind the scenes. Keep watching because you do not want to miss what we show you next!
Important Notice: Any news, opinions, research, analyses, prices, or other information contained on this feed are provided as general market commentary and do not constitute investment advice or solicitation for a transaction in any financial instrument or unsolicited financial promotions. All material published on the website is intended for informational purposes only. The market commentary has not been prepared in accordance with legal requirements designed to promote the independence of investment research, and therefore, it is not subject to any prohibition on dealing ahead of dissemination. We do not make any warranties about the completeness, reliability, and accuracy of this market commentary. Past performance is not an indication of possible future performance. Any action you take upon the information on this feed is strictly at your own risk, and we will not be liable for any losses and damages in connection with the use of this feed.
Risk Warning: Cryptocurrencies are highly volatile and trading can result in the loss of your invested funds. Before investing you should be aware that cryptocurrencies may not be suitable for all investors. You should therefore carefully consider whether trading or holding digital assets is suitable for you in light of your financial condition and not invest money that you can not afford to lose.