Crypto's 'Dawn of the Dip' | Daily News 29/6/22
Crypto's 'Dawn of the Dip' | Daily News 29/6/22
🙂 After we saw last week showing pretty positive signs for Bitcoin, the tides have changed once again 😣 as Bitcoin and the crypto market have fallen 🔻 for the last 3 days in a row! Bitcoin is currently down over 3.5% in the last 24 hours, and ETH is down almost 5.5%!
📉 These drops in prices are considered to be primarily due to the latest information with not-so-encouraging data 📋 by the CB's consumer confidence report released yesterday. Of course, the immediate reaction by the tech stocks like the S&P 500 and Nasdaq reacted by dropping a whole 3 and 3.5% respectively. Let's dive in!
As of ✍️ writing, Bitcoin has dropped 🔻 in price, dipping below the psychological support level of $20k 😱 it has been toying with us in the last couple of weeks but is now back over, sitting at $20,110! The next immediate support level is at around $19,760, indicated below if BTC was to continue dropping once again below this important support level of $20K! It seems like the bears 🧸 are now in control of the market, and all of the 🌎 global macroeconomic news and data is affecting BTC and the crypto market as a whole, as was to be expected.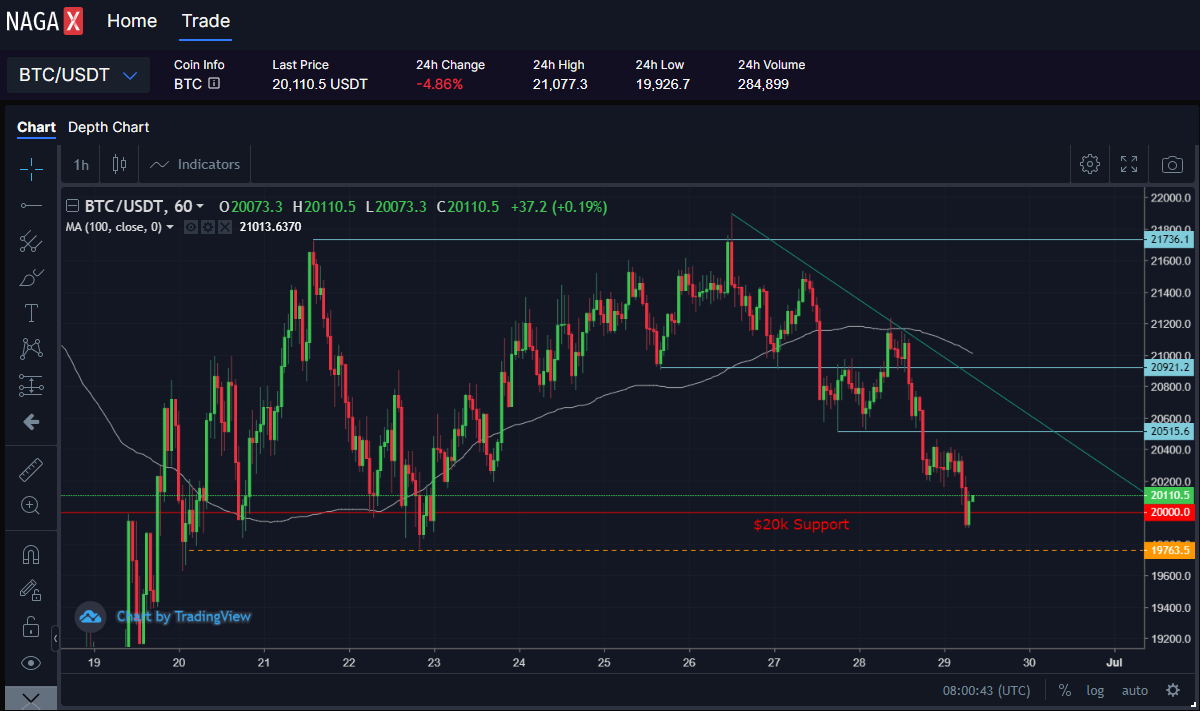 The BTC/USDT shows Bitcoin's bearish momentum. Do you think we will hit $18K again?
BTC has now 🔴 dropped almost 10% lower than its recent highs of almost $22,000 just 3 days ago. From here, if Bitcoin is to continue its bearish momentum 🐾 - then we can eventually expect to retest close to the lows of around $18,000 where there are many buy orders waiting.
The turnaround from upwards to downwards momentum in just days is evidence of these extremely 😧 anxious times in the markets as a whole. In contrast although many Bitcoin HODLr's are still panicking, many are cool calm, and collected and are either adding more to their positions or waiting for a possible further dip - to take advantage of these 'discounted' 🏷️💲 prices.
We are at a time now where it is finally more affordable to join the infamous 🎩 "21 Million Club", a collection of Bitcoin holders holding at least one bitcoin! When BTC was near all-time highs just at the start of the year, many newcomers in the space could only dream ☁️ to hold 1 BTC. BUT, with the recent price drops, it is once again a more manageable possibility/goal. We will be releasing a 📑 blog on the "21 Million Club" later today, so keep those eyes 👀 peeled!
One last thing we want to point out, is always zoom out 👁️ when in doubt! We are sure you've heard this expression before but it is always a nice reminder! Look at this chart:
This monthly chart shows the near bottoms of the previous two bear markets, and where we are today!
Now after following the shorter timeframes and price action, then looking at the above chart - long-term holders' perspectives change and come back into focus 👓! This chart above shows we are near to this market's bottom 🍑, although may have some more room to drop. Just remember, bear markets don't last forever! 🔃

Looking at the second 🥈 largest crypto by market cap, Ethereum is following Bitcoin's path and has now dropped to just over $1120, being 7% down in the last 24 hours. We can expect to see ETH and the other alts follow Bitcoin's price action.
🔴 In regards to the rest of the alt coins, it is red across the board today according to CoinMarketCap, with Decentraland (MANA), The Sandbox (SAND), and AAVE (AAVE) leading the reds with an almost 12% decline in the last 24 hours. Of course, as the volatility is high at this current moment, these numbers will all be subject to change pretty quickly!
🟢🔴 Chainlink (LINK) is still holding up pretty well after being listed on Robinhood, although of course still dumping due to market conditions! And Polygon (MATIC) is also still holding up well.
Many traders in this market will be looking at the point when Bitcoin will start to turn around once again for bullish 🐂 momentum, to then add to their alt bags and make even more bank 💲. ❗ Of course, as market conditions worsen, trading with caution is even more of a priority when it comes to the altcoins!

📉 The S&P 500 closed yesterday down 3% and the Nasdaq closed just under 3% 🔻, but dropping a staggering 28% from its recent highs back in November 2021! These stocks have been significantly affected by the recent data reports released so far this week 📅, after Monday's Census Durable Goods report 📋 showed orders in May rose higher than estimated which was evidence enough to prove that the economy was not getting in any better shape enough for the Fed to pull back its aggressive stance and actions!
💲 The DXY (the U.S. Dollar Currency Index) is now rising 🟢 especially as many are expecting that the Fed's Chair Jerome Powell's talk later today will be more hawkish (aggressive in its stance towards inflation) as the prior interest rate hikes have failed ❌ to bring even a minor amount of positive impact on the inflation rate in the US economy!
Yesterday's CB Consumer Confidence Recap
📖 The CB's Consumer Confidence index tumbled 👎 more than expected on yesterday's data release, proving that general confidence in the markets is dropping as fears of a recession grows closer!
📋 Data showed that the headline figure dropped from 103.2 to 98.7, well below its prediction of 100. This points to recession and soon enough will show lower earnings 📉 for companies. Due to these reports, it's increasingly becoming more difficult to justify buying into riskier assets hence why more value is getting parked into the U.S. Dollar rather than trading against the USD.
👉 If you still haven't looked 🕵️‍♂️ at this week's upcoming events that we list for you every Monday; bookmark it and read it to keep you up to date with what is happening, what events to look out for, and how they will affect the global markets!
Summary:
The crypto market is back in 'bear season' with BTC down almost 10% from recent highs!
However, it's a great point to remind you to ZOOM OUT!
Traditional markets have not fared well either, especially after two consecutive days of data pointing towards more hawkishness.
Altcoins are also in the red across the board.
The Consumer Confidence Report data wasn't so confident!
Important Notice: Any news, opinions, research, analyses, prices, or other information contained on this feed are provided as general market commentary and do not constitute investment advice or solicitation for a transaction in any financial instrument or unsolicited financial promotions. All material published on the website is intended for informational purposes only. The market commentary has not been prepared in accordance with legal requirements designed to promote the independence of investment research, and therefore, it is not subject to any prohibition on dealing ahead of dissemination. We do not make any warranties about the completeness, reliability, and accuracy of this market commentary. Past performance is not an indication of possible future performance. Any action you take upon the information on this feed is strictly at your own risk, and we will not be liable for any losses and damages in connection with the use of this feed.
Risk Warning: Cryptocurrencies are highly volatile and trading can result in the loss of your invested funds. Before investing you should be aware that cryptocurrencies may not be suitable for all investors. You should therefore carefully consider whether trading or holding digital assets is suitable for you in light of your financial condition and not invest money that you can not afford to lose.