Crypto's Independence Day July Start | Daily News 4/7/22
Crypto's Independence Day July Start | Daily News 4/7/22
The cryptocurrency market has had a fairly slow 🦥 start to the month after Bitcoin struggled to hold over its big psychological support of $20,000 last week. This was to be expected mainly due to the national holidays 🗽 of the USA, which has affected most markets. All eyes 👀 will be gauging the markets in general over the next few days as we have some important events and reports being released this week.
The crypto markets also carried on with its correlation with the equities market, specifically with Bitcoin correlating 🧬 with the Nasdaq Composite having reached 0.78 above zero in the week ending July 3rd!
Let's have a look 🕵 at the markets in more detail and also talk about what's coming up this week!
We saw Bitcoin close the week yesterday in the green 🟢, breaking the 7-day streak of negative price action. Since the new month opened, BTC has remained in a fairly sideways channel ↔️ between $19,000 and $19,300 - as you can see in the chart below 👇. Of course, July 4th; Independence Day in the USA 🗽 has had quite a bit to account for in this market inactivity with many investors and traders spending time with family and friends.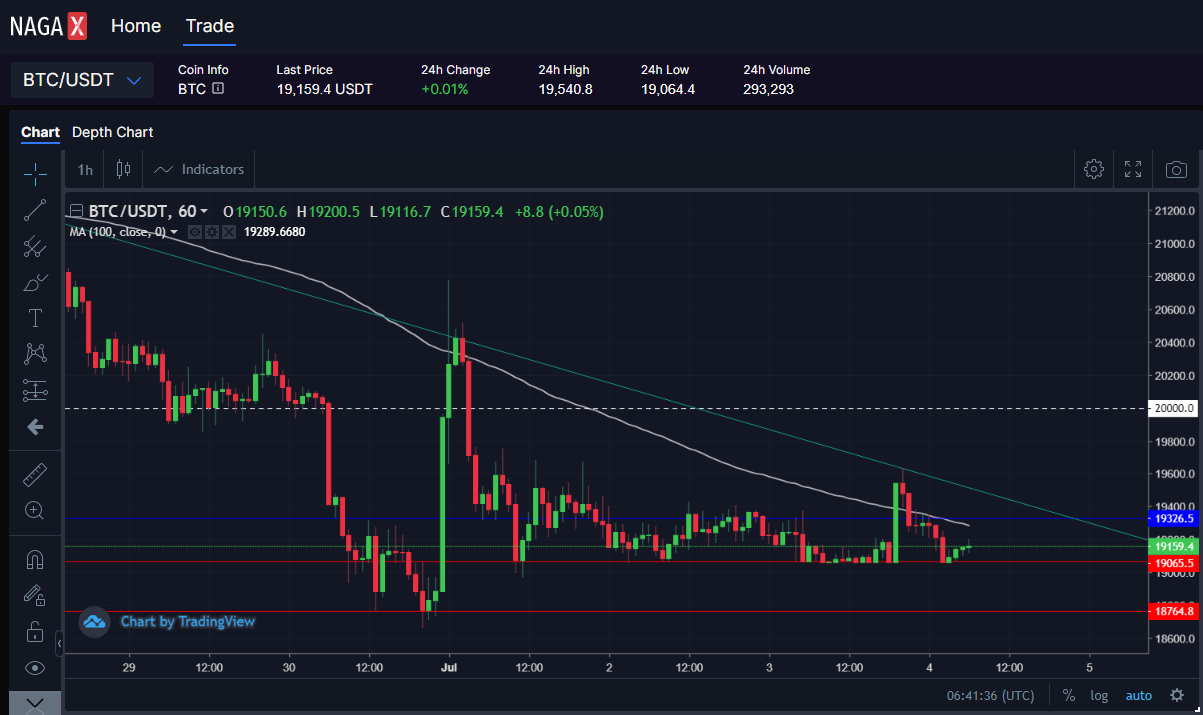 Here, we can see the BTC/USDT hourly chart showing clear sideways price action and a moving average & descending bearish trend line that BTC needs to get over!
Right now, Bitcoin is currently valued at just over $19,100, sitting below the 100-day moving average and forming a clear descending triangle 🔻 trend. We can see very clearly, a formed support level at just over $19K and consolidating above each time then rejecting 🤚 the moving average….for the time being!
The next support level to keep our eyes on 👀 is the $18,760 level if we were to take another dive down. Of course, if we were to hear some positive news this week (we'll even take some neutral news), then we need to see BTC ideally break over 📈 the descending bearish trend line (pictured in green above).
This is certainly a possibility as the DXY 💲 (the index that shows the strength of the US dollar) has hit a double top and is at current all-time highs. If the dollar starts to break down, then we should see some 👍 good positive price action for Bitcoin!

As expected, Ether, the second-largest cryptocurrency by market cap, has also been keeping a fairly sideways ↔️ bit of price action. However, it has had a smidge more 🤏 volatility in price in comparison to BTC. The main takeaway for ETH is that it is still holding over the $1000 psychological support level. It has also been hitting and getting 🤚 rejected from the 100-day moving average very neatly apart from the last few hours where it pumped over and dumped back down, again sitting neatly under the moving average.
🟢 As for the other alts, a generally flat market overall. Tron (TRX), Avalanche (AVAX), and The Sandbox (SAND) have been the biggest gainers over the last 24 hours with an average of a 4% gain.
🔴 Polygon (MATIC) however hasn't performed very well over the last day or so, currently down by almost 5%!

📉 A brief minimal, but welcoming upswing in the equities markets with tech heavies Nasdaq and the S&P 500 both closing about 1% up; breaking their decline run. However, the Dow Jones futures sank 0.6% vs. fair value.
❗ It's important to note that the U.S. stock exchanges are closed today in observance of Independence Day, but other markets around the world are open.
🏛️ Last week on Wednesday, we had the Fed's Chairman, Jerome Powell, reiterate their commitment to tame inflation as well as separate reports showing that consumer confidence in the economy is weakening.
🗓️ Later on today, we will be uploading for you our weekly events and forecasts to 👁️‍🗨️ add to your diaries and track global economic news, reports and analysis; all of which affect the global economy, financial markets, and yes…even Bitcoin!
Summary:
A slow weekend with little volume keeping crypto markets in a mostly sideways motion.
Altcoins of course followed Bitcoin with price action.
Equities markets briefly up but Dow Futures sank 0.6%.
U.S. stock exchanges are closed Monday in observance of Independence Day!
Keep your eyes open for our weekly upcoming market events and forecast report.
Important Notice: Any news, opinions, research, analyses, prices, or other information contained on this feed are provided as general market commentary and do not constitute investment advice or solicitation for a transaction in any financial instrument or unsolicited financial promotions. All material published on the website is intended for informational purposes only. The market commentary has not been prepared in accordance with legal requirements designed to promote the independence of investment research, and therefore, it is not subject to any prohibition on dealing ahead of dissemination. We do not make any warranties about the completeness, reliability, and accuracy of this market commentary. Past performance is not an indication of possible future performance. Any action you take upon the information on this feed is strictly at your own risk, and we will not be liable for any losses and damages in connection with the use of this feed.
Risk Warning: Cryptocurrencies are highly volatile and trading can result in the loss of your invested funds. Before investing you should be aware that cryptocurrencies may not be suitable for all investors. You should therefore carefully consider whether trading or holding digital assets is suitable for you in light of your financial condition and not invest money that you can not afford to lose.